Source: Streetwise Reports  (12/22/16)
Patriot One Technologies, which is developing an innovative radar technology to instantly detect concealed weapons, has brought on Ridge Global as a strategic advisor.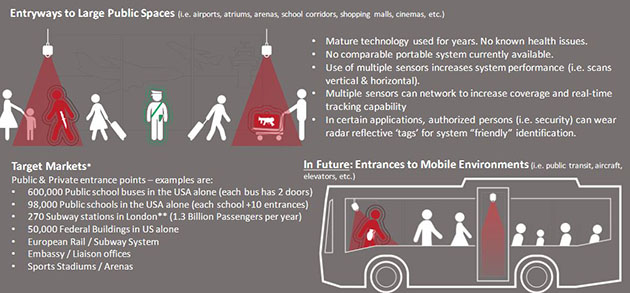 Patriot One Technologies Inc. (PAT:TSX.V; PTOTF:OTCQB) announced on Dec. 19 that is has engaged Ridge Global as a strategic advisor: "Led by Tom Ridge, former Governor of Pennsylvania and the first U.S. Secretary of the Department of Homeland Security, Ridge Global LLC represents a significant partnership for the Company. Patriot One expects its work with Ridge Global could generate key relationships, opportunities, and support strategic engagement and enhanced service for prospective Patriot One customers."
Patriot One CEO Martin Cronin, stated, "We are tremendously pleased to announce this partnership. Working with a company with the stature and reach of Ridge Global could greatly accelerate the exposure of our groundbreaking technology to key potential users. Governor Ridge has an unparalleled grasp of the challenges facing those charged with the safety of the American public and we are proud of the confidence he has shown in our technology."
Gov. Ridge, chairman of Ridge Global, stated, "As we have seen in the Western world, our adversaries will continue to pursue so-called 'soft targets' such as transportation hubs, sporting venues, restaurants and office buildings. Almost by definition, democracies are soft targets. Patriot One has developed powerful technologies to mitigate these ongoing challenges while at the same time being less obtrusive to event attendees. Ridge Global is proud to work with Martin and his team to bring these innovations to the marketplace."
Patriot One Technologies Inc. is developing a concealed weapons detection system. According to the company's website, the technology, called NForce CMR1000, "which is intended to be placed in entryways and other key locations, utilizes radio wave emissions that safely target, identify and notify of concealed threat potential through software recognition of specific wavelength patterns." Early warning is important for the deployment of timely countermeasures, and Patriot One "aims to commercialize its technology as an automated alert system capable of covertly screening moving individuals for on-body concealed weapons (handguns, knives, grenades, explosive vests, etc.)."
Patriot One stated that the technology is designed to "covertly identify weapons and to alert security of active threats before entry. Soon, facility operators aim to have an ability to prominently post anti-weapons policies with compliance assured. Patriot One believes widespread use of its technology could act as an effective deterrent, thereby diminishing the epidemic phenomena of active shooters across the nation and around the world."
Gov. Ridge, in a recent interview, said that he sees a variety of technologies and this "seems very, very unique and compared to what is in the market place. In some technology in the U.S., it's not the big companies that are developing [the technology]; it's the small, agile entrepreneurs." He added that Patriot One's development of the technology has "the Canadian element, research and development from universities, along with the credible capabilities of private sector merging it together, so it's a disruptive technology."
Patriot One commenced trading Nov. 14 on the TSX Venture Exchange under the symbol PAT and commenced quotation on Nov. 28 on the OTCQB Venture Marketplace under the symbol PTOTF.
FinancialBuzz.com notes that the system "is an innovative radar technology designed to warn first responders and security personnel in Active Threat scenarios. The technology offers stand-off detection of concealed weapons typically employed in public locations."
FinancialBuzz.com stated that according to a recent report by HIS Markit, "the global defense trade increased at a record pace last year, with the value of the market growing to $65 billion in 2015. The United States has remained the largest exporter of defense equipment, supplying $22.9 billion worth of equipment, which is a major increase from $12.9 billion in 2009. . .a significant portion of the defense sector is the security and surveillance radar market, which is expected to grow at a CAGR rate of 5.97% and reach $8.61 billion in value by 2020."